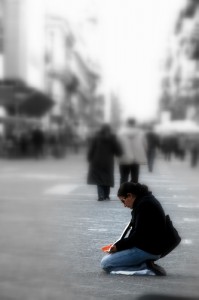 Communicating to future prospects, whether they be clients, potential lovers or maybe just someone at the DMV who you want to help you get out of there quicker can pose us with an almost infinite number of possible strategies. Sometimes the most successful route to take is also the simplest. Stick with me here and I am sure you'll be happy you did…
In 1954, a social psychologist by the name of James Olds worked in conjunction with a physicist named Peter Milner to discover what is now known in the field as "self-stimulation". During their research, they found that by planting an electrode near the Nucleus Accumbens (NAcc) rather than other traditionally held arousal centers in the brain showed energized behavior and spontaneous return to the geographic area where the rat received the "charge". This interesting finding caused them to fashion a Frankenstein-esque apparatus that would allow the rat to give themselves a "charge" whenever they wanted by pressing a bar… What do you think happened?
The results were, well, predictable… The rats would work diligently to press that bar over and over again… and actually did this at the exclusion of all other activities including eating, drinking, sex and sleeping. I am assuming that this must have felt pretty good… I happen to know some people that, minus the apparatus, aren't much different than those rats…

At any rate, this study led modern neuroscientists to the present knowledge of dopamine and the Mesolimbic system, or the reward system in our brains. There are two component of the Mesolimbic system that interest us for this particular discourse and they are the Mesial Prefrontal Cortex (MPFC) and the Nucleus Accumbens (NAcc). These two components are responsible for the activation of gain anticipation and gain probability, respectively. As such, these help us to calculate our expected value of taking a particular action by giving us a "reward" which is a nice little shot of that dopamine. In other words… this is how we figure out if something is "worth it".
So what am I getting at? Stick with me… your "reward" is coming soon, we'll see if we can't fire up your Mesolimbic system…
Now, putting our furry friends aside for a moment, the Mesolimbic region has been lighting up FMRI and PET scans in humans for instances that involve things such as money, pleasant smells, pleasant touch, the sight of a gorgeous face and especially viewing erotic films. In fact penile tumescence is directly correlated to this reward system… pretty powerful stuff. Do with that information what you will, but today we are only interested in cooperation….
Now socially, bonding is something that is culturally and evolutionarily wired into us, This is something that would be difficult to debate. Viewing your lover, seeing your infants face and the concept of cooperation all activate this very same reward system. Human cultures foster a strong value for reciprocity and cooperation as by doing so, stability will follow. So, you guessed it… when people cooperate, they get dopamine.
In fact, an FMRI scan of individuals playing what is know as "The Prisoners Dilemma", which is a game of cooperation, showed that mutually cooperative outcomes fired up this system more than any other strategies. On the flip side of this, when someone decided to defect and thereby rescind their cooperative position, the head of the Caudate (just above the NAcc) lit right up and the amount of money they would pay to PUNISH these defectors was directly correlated to how active the Caudate became. As such, we are hardwired to cooperate and punish people when they don't…
OK, so what the heck does all of this mean? In attempting to gain compliance or cooperation from someone, it is helpful to know that they are wired up for this very action… All you need to do is give them cause or rationalization to do it and the simplest way is by asking for help… Yes, "help". This is a phrase that is wired into us from early childhood almost as soon as we are able to comprehend language. Much like the term "because" (if you have been through Kevin Hogan's work), there is an automaticity in the brain to this request that bypasses the critical thinking component.
By framing your request in a way that solicits someone's "help" and positioning the two of you together against the "defecting hordes", who or whatever they may be, you will be tapping directly into that Mesolimbic system causing them to give your request "expected value" and exponentially increase the odds of gaining their compliance.
To learn more about strategies that can help you increase your effective communication, please search the rest of my site The Communication Expert, or catch me on Skype.