I don't care where you are, or what type of interaction you are involved in, you are always negotiating.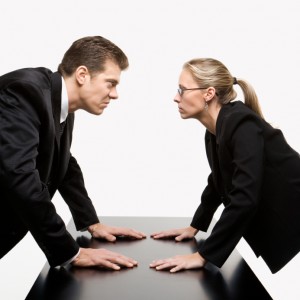 Every day, in some way shape or form, you are vying for a top spot, offering some compromise or otherwise working to get something from someone else. Your spouse wants to go out for Chinese, you want to go for steaks… Your kid wants to play PlayStation and you want them to take out the trash… Your mother needs you to paint her porch and you want to play golf… All of them, negotiations.
Many people find this task intimidating, but negotiation is a key skill for success in business and the home. One of the biggest misconceptions is that negotiating is just for the board room. Now although I do indeed coach very advance negotiators, I have listed some good fundamental tips below for you to use in everyday life and/or your own workplace.  Hopefully these tips will make it a little less worrisome for you.
Top 10 Tips for a Successful Negotiation
1 – Know Your Key Points - Consider your arguments and the convincing details for each; order them by strength.  Write them down; refer to them often to keep the discussion focused.  Be sure to include points that will benefit the other party.
[amprotect=1]
2 – Choose Your Strategy - Decide the perspective from which you should approach the discussion.  Know the person with whom you will be negotiating, in order to choose the appropriate hard or soft "sell" for the situation.
3 – Focus on the Strongest Arguments - Begin the discussion with your strongest points, referring often to the list you made of salient details.
4 – Dispute the Counter-Arguments Considerately - Determine the weaknesses of the other party's arguments.  Counter them with positive, factual points in a way that avoids making the other person feel defensive against an attack.
5 – Stay Focused on the Goal - Again, use the points list to keep the discussion on topic.  Be alert to attempts to derail the discussion and gently guide it back on track.
6 – Try to Remain Detached - Strong emotional displays have no place in business negotiations.  If you find yourself getting angry, take a few deep, calming breaths.  Even better, suggest a short refreshment break to give both parties a chance to regroup and relax.
7 – Keep Your Cool - Negotiating is frustrating, by its nature; giving up what you want is difficult and middle ground can be hard to find.  Let your arguments speak for you and stay calm, regardless of what you may see as provocation from the other party.
8 – Respect Your Rival - Acknowledge that the other party's point of view deserves consideration.  Remember that successful negotiation must include compromise and concede to points on which you are able to give way.
9 – Propose a Compromise - Having listened carefully to understand the needs of the other party, suggest a solution that provides benefits to you both.
10 – Honor the Agreement - When the terms are reached, the negotiation ends, and the time for argument is over.  Failure to abide by the accord will sabotage future negotiations.
[/amprotect]
If you use these fundamental points as a reference during your own interactions, you will find that you are more successful, I guarantee it. You can find even more effective and useful information on negotiating here - STRATEGIES FOR SUCCESSFUL NEGOTIATING.
Please feel free to explore the rest of my blog The Communication Expert, or if I am online, please feel free to connect with me via Skype.
David J. Parnell