Communication Expertise with Cognitive Rule Sets 2.
So now that we have a rough frame work of how a decision is made, let's talk about the rational component of this process which is the "cognitive decision". Although they are not necessarily the most important, or influential part of the general decision making process, they are indeed an important part. Understanding someone's rationalization strategy is an extremely important part of the overall persuasion process.
If someone is not able to place rational reasons or logic around a particular decision, it can become extremely difficult to make that very decision. Dissonance sets in and unless there is "good reason," the average person will default to the safety and predictability of the status quo. So it is really important to understand what belief systems someone uses to dictate their behavior around a certain subject.
Cognitive Rule Sets will do just that… Our Cognitive Rule Sets are the rules of conduct/action and identity statements that help us to determine how exactly we will react/act in a given situation. Should I buy? Should I give them my phone number? Should I run or fight? These types of decisions for the most part are determined by the makeup of our Cognitive Rule Sets.
There are a 12 different Cognitive Rule Sets and accurately handling them in two posts is not in the cards. Some quick examples of them are your "Needs", "If/Then's", "Cause/Effect's", etc… In understanding what all of them are, how they interact and how to properly elicit them you will be well on your way to some very persuasive communication. Below, we will talk about the "Shoulds" and the "Either/Or's" as example to illustrate their usefulness.
From an elicitation stand point, you can (and should start out with) a broad/open elicitation that allows their mind freedom to run with the question and give you interesting feedback. Once you have some rules from the broad elicitation you can then begin to narrow in with some focused elicitation questions that can more acutely examine each rule.
So let's take a look at a "relationship" scenario so that I can give you an example of Cognitive Rule Sets in action… You are sitting down to breakfast with your newly acquired girlfriend (a direct result of the red sports car

) and you want to understand her better to make this relationship work. After some rapport building you launch into the following two questions:
BROAD ELICITATION – "SHOULD'S"
Here we will use the rule set of "Shoulds".  This word "should" is a very powerful and illuminating word. "Should" rule sets give you a BROAD AND STRUCTURAL view of how people believe a certain context needs to "execute" on behalf of all parties involved.
When people use the word "should" in their terminology, you are getting a look at the tip of a very influential iceberg in their mind. "Should" is a staple rule set and is a great place to start when illuminating someone's thought process. So you question may sound something like this:
"What do you think a guy SHOULD do in order to make a relationship function better?"
By asking this question, she will communicate a list of "rules" that she has set in her subconscious and are showing up in her cognitive thinking process. You NEED to know these if you are going to satisfy her needs in the given context.
One of her answers to this question may be that "A man should always let the woman do whatever she wants without recourse…" (Sounds like you picked a winner here…) Now this is a pretty broad and all-encompassing statement so we really should dig in on this further. To hone in on this, you will elicit another one of her "rules" that surrounds this thought. For this we will use the Either/Or rule set.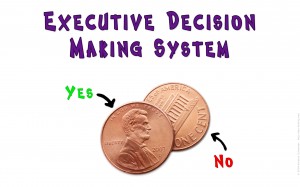 FOCUSED ELICITATION – "EITHER/OR'S"
A very specific and acute Cognitive Rule Set is the Either/Or rule set. This information will basically give you the belief system that dictates the outcome or repercussions of a given action. Either/OR rule sets are the result of dichotomization occurring due to our minds drive to categorize information for instant recall.
The information that this type of rule set will give is very NARROW AND ACTION SPECIFIC.
It is a very specific question and is great when you are doing a focused elicitation. So you may follow up her answer of "A man should always let the woman do whatever she wants without recourse…" with the following focused elicitation:
"So… EITHER the man lets the woman do whatever she wants, OR what happens…?"
Now her response may be "OR the woman leaves him never to return", or it may be "OR the woman will whine about it for 3 days…" Regardless of the response, you now have a MUCH better view of where you stand and what you are dealing with. The result of this process being that you can now make a much more informed decision about how best to move forward… if you decide to at all. With these two simple questions you have elicited two extremely telling RULES that govern her actions on a relationship setting.
In knowing what a person's "shoulds" and "either-or's" are, you have a powerful tool in persuading them. You can now tailor your communication to match up with their cognitive rules. This will help them to better accept the decisions you are persuading them to make.
There are a vast number of rules and sets of elicitation strategies that are necessary to know if you want to have a successful relationship, whether business or personal. To learn them all you will have to wait for my book coming out in November of 2009. If you have any questions, please feel free to contact me directly.
To learn more about Cognitive Rule Sets and other forms of communication that can help you refine your own effective communication skills, please explore the rest of my blog The Communication Expert, or if I am online, please feel free to connect with me via Skype.
The Communication Expert | David J. Parnell