I want to make something very clear at the outset… When I talk about hypnotic language, I am referring to the process of utilizing verbiage and phraseology that simply bypasses our critical thinking to gently and smoothly float right into the subconscious workings of our communication recipient's brain. This is PRACTICAL, REAL LIFE USAGE OF HYPNOTIC LANGUAGE.
If we are going to create the skill set of a Communication Expert, we really need to let go of the urban legend-esque stories and look at the psychology and science of this to truly understand the unbelievable power behind it. The most successful sales people use this. The most successful politicians use this. The mega marketing firms use this… I don't care what you do or what you are engaged in… This is useful in all areas of your life…
But before you get into the nitty gritty, it is necessary for you to understand some specific areas of the inner-workings of the human mind works in order to comprehend how exactly hypnotic language is effective.
There are three major processes that I want to talk about that pertain to our brain's readiness to accept and respond to hypnotic language. Our evolved brain is set up to do a few things really well that can leave the mind vulnerable to the trappings of hypnotic language. The fields of evolutionary and cognitive psychology do a great job of explaining these things further…
1. Prediction – The quicker that a brain was able to size up an environment and/or different scenarios for the purpose of prediction, the better that brain's chances were for survival and the propagation it's genes.
As a result of this, we have brains that are naturally coded to instantly, constantly and vigilantly seek out predictability and pattern, subconsciously. And when I say subconsciously, I mean that our conscious minds really have no idea that this is going on.
Take for example a study performed by Pawel Lewicki, Thomas Hill and Elizabeth Bizot. In this, participants had to watch a computer screen that was divided into 4 quadrants. Each time an X showed up in a quadrant, they had to hit it… Where the X was going to show up was actually laid out in a complex 12 step pattern unbeknown to the participants… Now as time went on, the participants grew increasingly efficient at predicting the arrival of the X.
The interesting part was that they had no idea how or why they were becoming good at it, they "just were". Their cognitive mind didn't even realize that a pattern existed… Their subconscious mind had done a pretty good job of figuring it out. To test this proctors then decided to interrupt the pattern to see what would happen. Just as they suspected, the performance "magically" went back to zero predictability…
This incessant drive to establish the ability to predict causes our brain to establish huge quantities of heuristics (rules of thumb), cognitive biases, attentional biases, etc… so that we can "size up" a new environment immediately. This very phenomena makes pattern and predictability in language very attractive and "digestible" to the mind. We talk about this further below…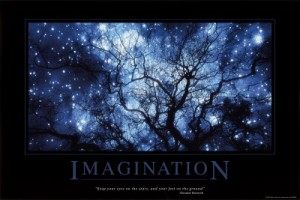 2. Creation of Mental Imagery – We also have an amazing ability to create scenarios in our mind to help us create, sort through and predict the outcome of an event based on past experience. One of these processes is our ability to visualize, with great clarity and reality, possible or remembered events.
As an example of this, take a study involving piano players… Three groups were formed. One group was to play a piano randomly for a predetermined amount of time per day for a few weeks. Another group was to play a particular piece of music for the same amount of time. The last group was to IMAGINE that they were playing the same piece of music, without actually playing with their fingers, for the same period of time…
They then took all of participants and ran them through an FMRI (brain scan…) to check the outcome. The first group had no change in their neural makeup. The second group had produced a relatively strong and functional neural net that corresponded with the playing of the piano. The third group… They too had developed a neural net that was literally almost as strong and the second group's… They did this simply through focused attention. Amazing… the more "real" an imagined event becomes the greater the effects on the mind and body are. Our mind's ability to create "real" images and visualizations is powerful and astounding and their effects on our physiology and thought processes in turn are astounding.
3. Expansive filing and recall capacity of language – Unlike all other animals on the planet, we have the amazing ability to label visions, feeling, events, etc… with a single sound. This process is so powerful that it is difficult to understand the scope of how much it affects our lives. As an example, we can combine strategy, violence, death, hatred, murder, dissonance, pillaging, pain, sadness along with a million other concepts and sum it all up as "WAR". One simple, easy to find and use sound…
Language gives us the ability to act on our drive to establish predictability and encode the predictable patterns we see. Based on the comparison of other experiences through our mental imagery, we establish these patterns as "rules" that can then later be instantly accessed to "predict" how things will likely play out in any circumstance. These rules show up in our thinking in a number of different ways including:
Cognitive Biases – These are patterns of deviation in judgment that occurs in particular situations.
Heuristics – Rules of thumb… Basically informal rules used in solving problems.
Frequency Representations – Decisions based on how many times B occurred as a result of A.
Ecological Rationality – The observance of statistical regularity in outside occurrences.
So, to sum that big mess above up in an elevator pitch… Our brain searches for pattern and predictability and when it finds it, it will process this internally and either categorize it into an existing rule or create a new one in order to use in the future for the purpose of quickly sizing up and predicting the outcome of a situation or environment. Once recalled, these rules will use mental "re-animation/visualization" to create a hormonal cocktail that creates an actual feeling (kinesthetic)… This feeling dictates our decision in any and all instances…
So, in understanding all of this, the natural next question is "how does hypnotic language work within this structure?" Well I am glad you asked…
From a persuasion stand point, we are not looking to hypnotize someone in the clinical sense. What we want to do is use language that will bypass their critical thinking so that we can either:
Place information into their mind without resistance, or
Create visualizations, sounds, feelings, etc… to direct their mood or state.
For the most part, bypassing critical thinking can happen in one of two ways. You can create cognitive dissonance through confusion or utilize intense pacification by creating extreme subconscious comfort. This is the usage of language and rapport to create complete comfort and acceptance at the subconscious level so that their mind will more readily accept the information we are feeding it.
Cognitive Dissonance and confusion are fodder for another post. This generally involves usage of presuppositions… Here we are sticking squarely with basic Milton Erickson-level hypnotic language patterns.
The patterns that I am talking about work so well because they create subconscious patterns, mental imagery, rapport, develop internal sensations, etc… and they do this by leveraging all of the mental rules that our brains have naturally set up for our survival over the millennium.
In my next post I will introduce some actual hypnotic language rules and put them under a microscope for immediate usage in your own endeavors.
To learn more about Hypnotic Language and other forms of communication that can help you refine your own effective communication skills, please explore the rest of my blog The Communication Expert, or if I am online, please feel free to connect with me via Skype.
The Communication Expert | David J. Parnell