From a functionality standpoint, Hypnotic Language can be broken up into two overlying categories based on exactly how each is working with your brain's natural function. Traditionally hypnotic language has been solely grouped into and classified as what is termed the "Milton Model".
Although hypnosis dates back to the 1700's with Franz Mesmer drawing people into a trance through the rhythmic movement of objects such as his hands, its practical usage was really developed by Milton Erickson. Milton was an American psychiatrist and developed the language patterns, unknowingly, while working with his own patients. Milton is actually a pretty fascinating guy and his history is amazing to read about. Having been dyslexic, color blind and overcoming polio are a few of the adversities that contributed to his success with, and understanding of the subconscious mind and how it works.
In dissecting and understanding how each formally classified hypnotic pattern works, it has become evident in the recent past that there are a number of other "patterns" that fit the mold of hypnotic language. Some of which we have covered in other posts. Fallacies, cognitive biases and evolutionarily developed attentional biases are some of the others. Today though, we will only talk about the Milton Model…
The two major categories that each pattern Milton-based pattern can be placed into are:
1. Cognitive Dissonance / Certainty. In this category, the language patterns are working within and/or taking advantage of the neurologically/psychologically predetermined rules that our mind sets up either naturally or developmentally. We generously discussed this yesterday while describing exactly how the brain works.
These patterns will do two things. They will either take advantage of these rules by reinforcing them to a polarized degree or they will use the inherent ambiguity of these rules to enforce something that otherwise would not be enforceable. They will take advantage of the rules by placing desired information into them and thus make it more acceptable to the recipient. Ambiguity will give the recipient's mind a ton of leeway to either more easily accept the information you are communicating or cause temporary confusion which actually places the mind into a suggestible state.
AMBIGUOUS INFORMATION: When ambiguous information is given to someone, their mind performs what is known as a "transderivational search". This is their brain's attention turning inward briefly to find past experiences so as to make sense of what is being said. This process does two very important things:
It allows us a much broader basis on which to connect with people.
It gives us short frames of time in which the people we communicate with are more susceptible to our suggestions.
Some specific examples of Milton-based hypnotic patterns that take advantage of ambiguity are:
Comparative Deletions

– These are statements that do not specifically state what or how a comparison is being made to. Ex. "Working with us is just so much better for your career… just wait and see." The question here is "Better than what"? Their mind will fill this in for us. If we are too specific, we may use information that they don't care about or cannot relate to. The result of this is that the statement will fire off their "pattern interrupt" detectors and engage their critical thinking… This breaks trance.

Nominalizations

– The process of nominalizing something occurs when a process or a verb is being spoken about as if it were a thing, an object or a static event. Ex. "But you know that I would never do that to you because we have that kind of RELATIONSHIP where those things don't happen…" The ambiguity here is that "Relationship" can mean a million different things; their mind will fill in all of the positive things associated with the term relationship on its own though. This aids us in our communication endeavors.
RULES BASED INFORMATION: When someone uses hypnotic language to take advantage of mental rules, they will simply weave the information that they want the communication recipient to "accept" neatly into the preexisting rule's structure. So in effect, the preexisting rule acts as a "Trojan Horse" if you will and transports the information directly into the subconscious mind of the recipient. Since the rules are already hardwired into the person's brain, the  rules acts as a safe transportation vessel for the information and will generally be readily absorbed. Some examples of Milton-based hypnotic language that take advantage of our mental rules are:
Single Binds

– A single bind is a statement that links one cause to one effect, inextricably. Cause and effect is a powerful rule that our brain follows religiously. Ex. "The more you practice your hypnotic language patterns the better you'll get". (The more – The better). This pattern causes the mind to simply accept, without critique, that practicing the patterns will be good for you…

Negative Statements

– Our brains are not capable, literally, of representing the lack of an object without representing it first. The classic example is "don't think of a blue polar bear". Your mind MUST first think of the blue polar bear and THEN erase it or cover it with something else. By saying "don't" or "I'm not going to tell you", the critical mind will accept this for what it is, however the actual REPRESENTATION that is occurring in their mind is the very thing you are telling them "not" to do… Ex. "Now I'm not telling you that your girlfriend is cheating on you with Chuck, but…" This guy is going to now have the thought of her cheating in his head without laying any blame or ill will on the speaker.
Cognitive Dissonance / Confusion based patterns are far and beyond the largest and most often used group of patterns. Many of these actually happen in one way, shape or form during regular communication without cognitive thought. It is the direct and volitional application of them at the right times that makes them so powerful.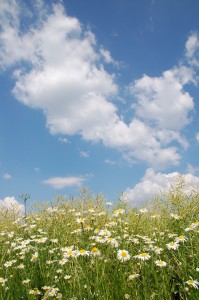 2. Rapport building / Pattern. Neurologically speaking, we are naturally walking around in "Beta mode" (Remember we talked about brain wave patterns in our first post on Hypnotic Language) because as we move from one environment to another our brain needs to be able to search for and find "predictability"… To do this it needs to be alert.
While communicating with someone in a solid Beta mode, their critical thinking is very strong… Like trying to speak with someone who is angry, they are not easily persuaded. In order to get out of that Beta mode and move toward the Theta mode (which is more suggestible), it is necessary to create a calming atmosphere… one that offers pattern and predictability and safety. Hypnotic language patterns can do this…
In this case, what is happening is that you are utilizing pattern and establishment of predictability to create inherent safety which will thereby create rapport. This process will coax their brain waves into leaving Beta level and into reaching Beta-Theta levels which will thus relax them. In some cases you may even reach Theta level which is complete relaxation. When in this state, the person's critical thinking really is taken down a few notches and the result is a much more suggestible person. Specific examples of this type of Milton-based hypnotic language patterns are:
Linkage

– This is the grouping of statements or concepts with a conjunction (and), and/or an implied causative (as you… you will) and/or a simple cause/effect statement (X will make you Y). What this does is causes a continuous rhythmic flow of information. Ex. "And as you listen to my story you will begin to realize that all of the anxiety that you once had just fell right out of your body because the relaxing tone will make cause you to slow everything down and as you continue to do this your breathing will become softer and softer and your smiling face will grow more and more as you finally begin to understand…"

Pacing current experience

– These are statements that describe the current and ongoing experience of the communication recipient while conveying your message in a way that links directly to the ongoing events around them.
Basically, by verbalizing both the surroundings and/or their internal thought you create pattern, connection and comfort to their mind. Ex. "As you are sitting hear, listening to the traffic outside go by and feeling the strength of the chair supporting your weight, I am able to realize that you are feeling a bit confused as to why we are here talking… And that is alright because that is just your mind telling you that you want to learn and understand and feel better about taking in all of the information I am about to give you…" What this is doing is basically telling the mind that everything is as it should be…
Now, it is important to understand that this is just a sampling of the vast amount of hypnotic patterns available to us. Again, as I stated earlier the real magic happens when these are used at the right time and ESPECIALLY when they are used in conjunction with one another. How to properly do this takes some skill but is a HIGHLY ACHIEVABLE task. With some practice, pattern usage is easy… In our last post I will review some specific Hypnotic Language patterns more acutely and give specific examples of where they can be used in real life.
To learn more about Hypnotic Language and other forms of communication that can help you refine your own effective communication skills, please explore the rest of my blog The Communication Expert. If I am online, please feel free to connect with me on Skype.
The Communication Expert | David J. Parnell